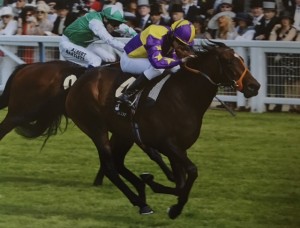 .
.
.
.
.
.
.
.
.
.
.
I've owned shares in racehorses on and off for most of my adult life, but it wasn't until 2006 that I began to buy on the back of my own analysis. Assisted by Mick Stone, I started out looking at the Horse in training sales at Newmarket, and also at claiming races on the flat.
Our first target was a quality Irish mare called ARDBRAE LADY – she had come third in the Irish 2,000 but had not progressed. I was impressed at her turn of foot, and thought she might improve for a bigger trainer. She was selling in the November HIT at Tattersalls – we called up Henry Cecil and Mick went along to meet him. Henry couldn't get comfortable with her feet and we decided to pass.
In the February HIT we looked at a filly called SWEETHEART on the basis of her having a stout pedigree, and potentially benefiting from a longer trip. Henry thought she looked moderate so again we passed. She didn't improve much on the flat, but later in life she developed into a top class hurdler.
Nine days later I made my first purchase; BALDOVINA was declared in a one mile claimer at Lingfield. She was a very late foal (May 27) but despite this had finished second in both of her first two UK starts before running fifth in a listed race in Italy. Her form had then tailed off dramatically. She was extremely well bred – by Tale of the Cat out of a French G3 winner who had started as third favourite in the Prix de Diane (French 1,000) – it was the sort of pedigree that you just don't see in claimers.
She didn't run too well – she finished third of five. I claimed her anyway – I knew that she had lost her way on the track so the poor run was of no great concern. I sent her to Tom Dascombe. A couple of months later Tom was reporting that she was showing a considerable amount of ability on the gallops; but she never showed it on the racecourse. I tried hurdling with her as an experiment: David Pipe also reported that she had considerable ability; but again she didn't perform on the track. For reasons unknown she had lost her way.
I decided grudgingly that I had to sell her; though I still thought there was something worth owning. I entered her in the Tattersalls mares sale of 2007, but with a reserve of £10k: unsurprisingly there were no takers; so she became my first ever broodmare. On the advice of Tom Goff she went to see Dutch Art, and a year later produced my first foal; an attractive filly who was later named VAN GO GO, and would go on to win three races as a two year old.
By 2009 I was putting a lot of time into pedigree study. I had bought a mare called VEILED BEAUTY, and on the back of a piece of my own analysis I sent her to SINGSPIEL. For Baldovina I had very little data to work with. I'd become interested in a second season sire called RED CLUBS: his pedigree was fair quality but differentiated, being free of Northern Dancer; and I thought he was a lovely physical specimen. He was orientated to speed and precocity; It felt like a fair punt.
In 2010 I had three foals, all fillies, on the ground in Newmarket; soon reduced to two when one of them died of grass sickness. Two nice foals, although the general opinion from my bloodstock advisers was that the Veiled Beauty foal was a 'keeper' and that the Baldovina foal was one to be selling. I have a tendency to do as I'm told in such matters, but it was hard to let go so I insisted on a decent reserve of £25k. We bought her back for £16k, which I was pleased about. Both fillies were consigned to Tom Dascombe who had just moved north to Manor House; both turned out to be keepers.
The Singspiel filly was named WALL OF SOUND; she would go on to be a stakes performer, winning three races and placing at listed and group level.
I didn't name the Red Clubs filly at first; but the early reports from Manor House suggested plenty of ability; highlighted by the fact that she was the most selected horse in the MHS 2012 five to follow. In late February, with Cheltenham around the corner, I headed along to the leaving do of one of the girls in the Betfair finance team. Stephen Morana, interim CEO at the time, was pressing me to do something to maintain some sort of link with the company – I had left in late 2010 and had not been back since. After a few beers I agreed to give up half of my Red Clubs filly for the year, in four 1/8 shares to be given as prizes in a Cheltenham tipping competition; and for the biggest winner overall to have the right to name the filly.
A few weeks later the prizes were given out; and I was told that my filly would be called CEILING KITTY. It wasn't a name that meant much to me, but a Google search revealed all;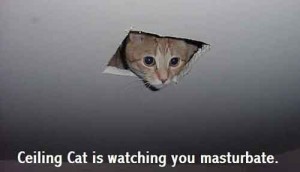 .
.
.
.
.
.
.
It was the internet 'meme' of the moment. I had reservations about the name but decided that mine was not to reason why – in the spirit of the name we called the new syndicate 'A Black and the Master Bettors'.
Kitty ran at Kempton on the first day of the flat and was sent off favourite (for some reason this happens to a lot of my horses…). It was a messy race and she was bumped twice, finishing an unlucky second. She then went to Beverley and ran on very soft ground – she finished down the field. She finally broke her duck in a small race at Kempton. We decided to step her up in class and have a go at the Marygate stakes at York.
In the Marygate she went off at 20-1, although I managed to get 44-1 on Betfair. She led from start to finish and never looked in trouble. We decided to raise the bar again, as you do, and have a go at the Queen Mary at Royal Ascot.
One might think that as the only listed winner in the race, Kitty would have been quite a short price for the Queen Mary, but this was not the case – on the day she was 20-1, (33-1 on Betfair). I'm told that she was heavily backed by many of the Betfair staff who had competed for a share in her; which makes it all the more surprising. Whatever the case this was her finest hour; she burst out of the stalls and blazed a trail on the far side of the racecourse. The race was never in doubt, and although she drifted in the closing stages she held on to win by a length with a further length back to third.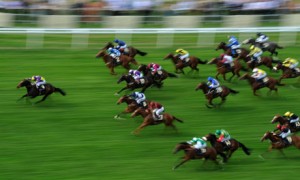 .
.
.
.
.
.
.
Kitty winning at Ascot
As it happened this would be her last winning performance. She had run five races in fairly quick succession; and she was starting to develop a problem with one of her feet. After a break she ran well in the flying Childers; and respectably in the Cheveley Park. We took her to America to run in the Breeders Cup, but it was a bridge too far and she trailed in last.
After some soul searching I decided to retire her. It might have been a mistake – although she was never the biggest she continued to develop physically, packing on the sort of hard muscle around her chest and shoulder the like of which I have never seen on a mare. Her front feet were not right though – one hoof came down fairly straight while the other was shallow and splayed out.
We put her in foal as a three year old – something I had not done before. Paul Coombe (my stud manager) was comfortable as he thought she was physically mature beyond her age. As a student of these things I noted that Northern Dancer was born to a four year old mare, covered as a three year old.
The Pivotal filly foal, now a two year old, is an extremely good looking animal; she has been named EARTHA KITT and will hopefully come out later this year. She is not as precocious as her mother and will need a little more time to develop.
In her second year Kitty again had a filly foal, this time by Invincible Spirit. She is slightly smaller than her sister but looks a very nice type. For her third year, moving away from raw speed, Kitty was sent to Camelot; my favourite stallion of the moment.
Kitty's fateful day was February 24 2016. I'd been in London for the evening and had just arrived home when I had a call from Paul. He was highly distressed but he got the message across: Kitty's foaling had gone tragically wrong and she had died; the chance of the foal surviving was extremely slim. I told him I'd be down to the stables before the night was out; I wanted some time to collect my thoughts.
Horses are not like people; they are fragile animals who can die quickly any time from all manner of conditions. This is something that winds me up about the 'Stop the hunt' protesters; what they don't get is that dying is simply an occupational hazard of being a horse; the risk is the price of the reward. Losing Kitty was a huge blow; but we simply accept the situation and move on.
Half an hour later, and in the knowledge that the foal was still alive, I made my way to the Chasemore foaling unit. It was eerily silent as I entered; then came a little whinney from one of the boxes. Opening the top door I saw a foal sat up in the middle of the stable, wearing a blanket. Four stable staff – Paul, Pat our vet, Laura and Jamie – were sitting in the four corners of the stable box looking quietly at their prize; the foal that they had salvaged from the wreckage.
The foal had been a 'dog sitter' – positioned in the womb with a hind leg locked upright and braced against his mother's pelvis. It's rare, and the worst of all positions – the hind leg has very little flexion and when a foal is jammed in this way it invariably leads to the death of both mare and foal. The foal's leg had torn through the lining of his mother's uterus, through the abdominal wall and into her intestines. When Pat arrived her blood pressure was falling fast and she was becoming toxic; the amniotic sac had broken away from the placenta and had become infected.
He made an instant decision – to put her down by lethal injection. Minutes later he was cutting through to make a caesarian delivery; no easy task with a mare. The foal had a heartbeat but was not breathing – Paul managed to get him to breathe but it was a battle and he had to be resuscitated four times. It was probably an hour before he turned the corner and settled down; we fed him milk from one of the other mares. A day and a half later a foster mare arrived from Ireland; and for now at least all seems well.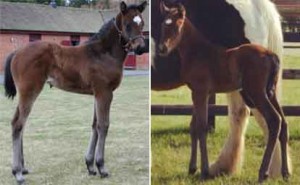 .
.
.
.
.
.
.
Kitty as a foal next to her Camelot foal
Onward and upward – this business can be hard to bear at times but we necessarily concentrate on the positives.