I'm getting a few Winker Watson progeny coming through now, my fourth Winker foal of this season having been born last week. I have four free nominations to Winker each year, and I try to take them all. Year 1 was disappointing as two of the four foals failed to materialise – one went very early and the other miscarried late on. I don't read anything in to this – there were no other slippages in his first crop. I've had four foals this year and all are well – I went out earlier today and photographed them all.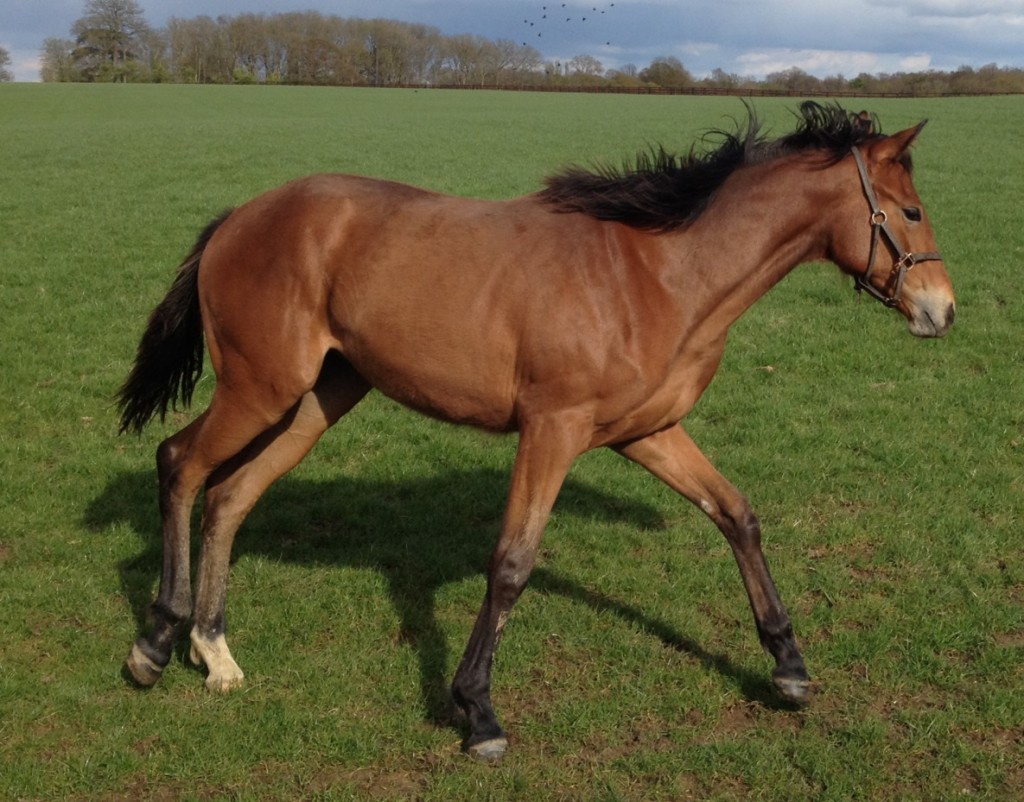 2011 filly ex Baldovina.
This half sister to Van Go Go and Ceiling Kitty looks really good. No major conformation issues and a lot of size and muscle for a yearling filly in April. She's a shade bigger than Ceiling Kitty (who was bigger than Van Go Go) which I think is a good thing. I'm very positive about her.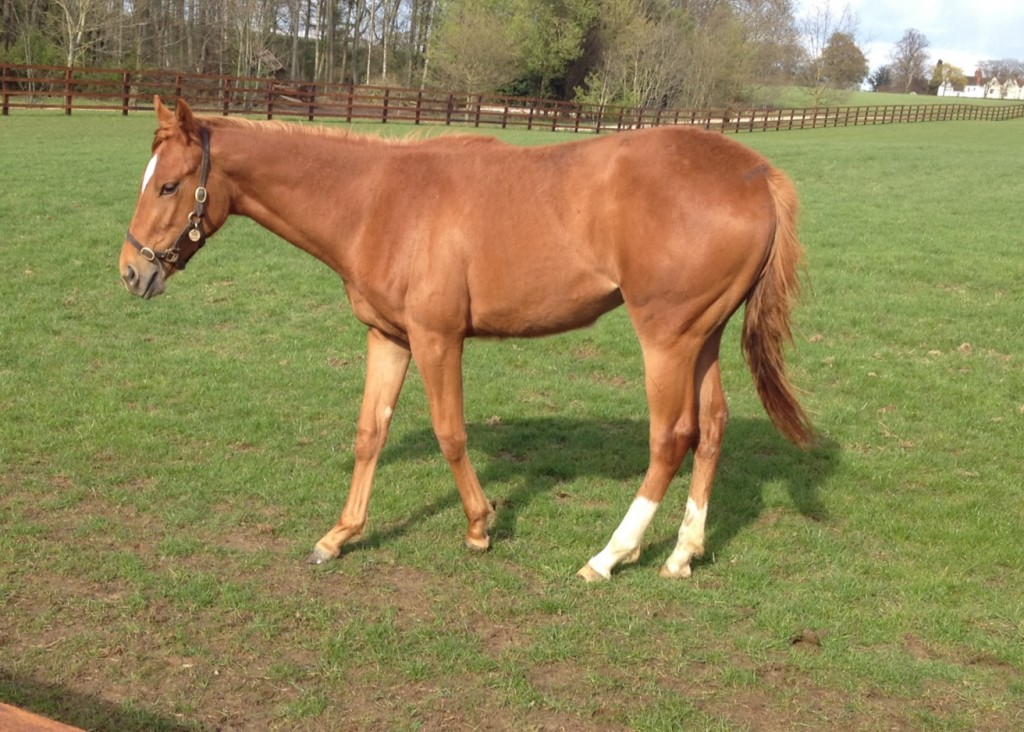 2011 filly ex Teia Tephi
This first foal out of Teia Tephi is probably not in the same league as the Baldovina filly – she's always been weak and her legs aren't great. Teia Tephi has had a lot of problems – she's very in-bred and has had a variety of health issues. I'll put her weakness down to her mother – she is improving and Paul (stud manager) thinks there is a chance she could see the racecourse one day.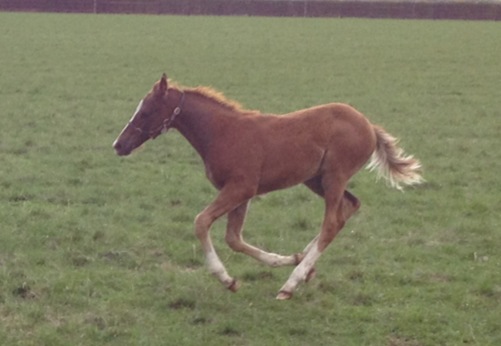 2012 colt ex Bea Menace
This was a first foal and, perhaps as a consequence of that weighed in very light at birth (43kg). He is extremely spirited – he virtually refused to lie down in his first week and he's quite pushy, hardly giving his mother any peace in the stable and running round and round the paddock with his poor mother following on. He's caught up a lot since birth – I'd say he's still a shade small but he doesn't lack for energy.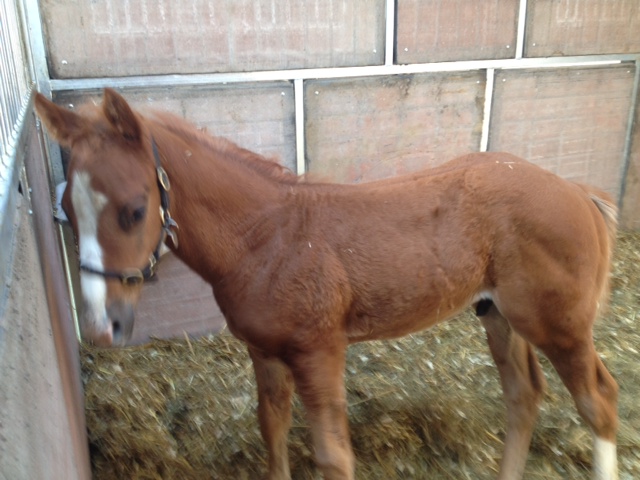 2012 colt ex Quaker Parrot
Not a great photo as this foal was in the stable today with a touch of diarrhoea. I like him – he weighed in at a good birthweight (53kg) and looks a fair shape. Tom Goff described him as 'Good size, strong bodied and quartered. Good bone. Slightly slack hind pasterns. A nice first foal.'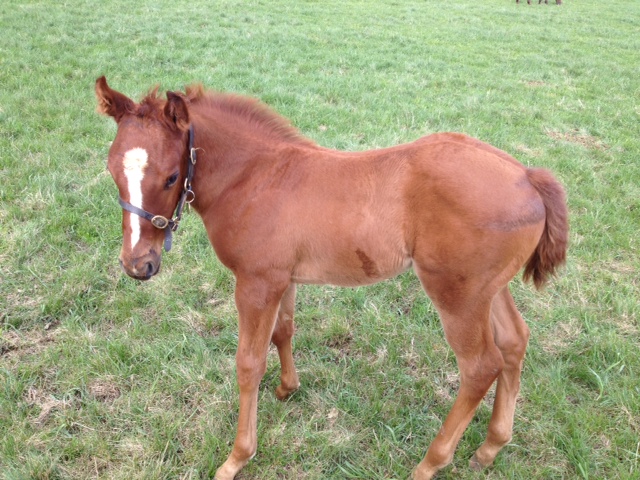 2012 colt ex Peintre D'Argent
I love this foal out of Peintre D'Argent – I think he's my favourite of all of our foals this year. He's mid sized, athletic looking and is very well toned – his neck is rock hard. Peintre was a weak, late maturing stayer who didn't win until she was four – this foal is very different to that.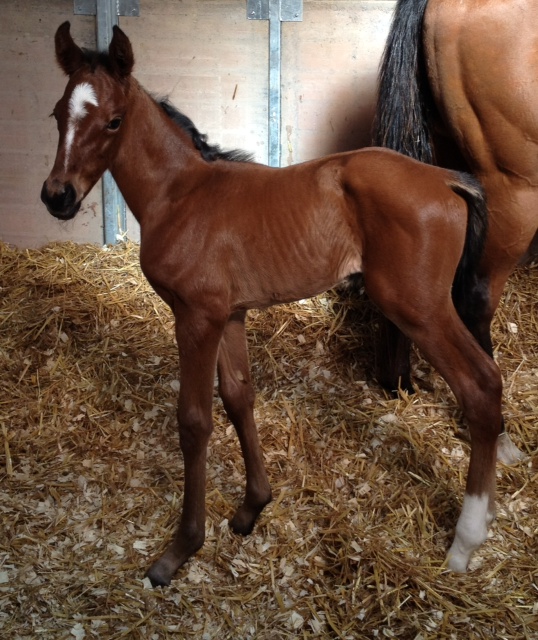 2012 filly ex Shawhill
This sweet little filly is only a few days old and is still all skin and bone – she will change immeasurably in the next couple of weeks. She looks really nice – a good size (tall and leggy) but of relatively light bone. I'd say she's the best we've seen from this mare, but it's early to judge – her yearling brother by Gentlewave looks nice enough, although not an early type.